1-multiplayer
ملاحظة:أي صورة ماتطلع روحوا عندها وأضغطوا زر الأيمن الموموجد في الفأرة أو اللمس اللي في اللاب توب وبعدين أضغطوا إظهار الصورة وراح تطلع لكم
MTAR
TYPE 25
SWAT-556
FAL-OSW
M27
SCAR-H
SMR
M8A1
AN-94
Main
Site
BO2 Weapons
Primary
Secondary
Equipment
BO2 Information
Multiplayer
Singleplayer
Lightweight

Allows you to move faster than normal. You also take no damage from falling.
Flak Jacket

You take less explosive damage, which allows you to survive (at full health) most explosive weapons that are used directly against you.
Blind Eye

AI-controlled air support Scorestreaks can't detect you. Some air support Scorestreaks can be player-controlled at
anytime
, which means they are still able to attack you if the AI is overridden.
Hardline

Allows you to earn
bonus points
for each action you take, which in turn earns you Scorestreak rewards faster. For example, capturing an enemy flag gives you 200 points, but with Hardline you get 250 points.
Ghost

Enemy UAV's can't detect you
while moving
, but if you stop, you'll show up on the enemy radar.
Perk Slot 2Hard Wired

This perk makes you immune to enemy Counter UAV's and EMPs, which is pretty much the same as the Assassin Pro perk from Modern Warfare 3. While the EMP doesn't affect you, you still can't call in Scorestreak rewards.
Scavenger

Allows you to replenish your ammo, equipment and grenades from enemies that weren't killed with explosives. Killed enemies leave Scavenger bags that can be picked up.
Cold Blooded

Makes you invisible to enemy targeting systems, which include equipment such as the Dual Band, Target Finder, Sensor Grenade, and MMS. Enemy player-controlled air support Scorestreak rewards also can't target you normally.
Fast Hands

Allows you to swap your weapons faster than normal - equipment and grenades can also be used faster. You can also safely throw back enemy grenades.
Toughness

With this perk you flinch less when shot by the enemy.
Perk Slot 3Dexterity

Makes you climb ladders and mantle over obstacles, such as gates, 50% faster than normal. You can also aim faster after sprinting and recover quicker from melee strikes.
Engineer
Allows you to see all enemy equipment glow red through walls. This perk also delays enemy explosives that were triggered by you.
You can also booby trap Care Packages or re-roll the Care Packages content and hope that it contains something better.
Dead Silence

Makes you more silent by reducing the sound made by your footsteps, jumps, and falls.
Extreme Conditioning

Allows you to sprint 2x longer than normal, which gains you a significant field advantage.
Tactical Mask

Makes you more immune to Flash and Concussion grenades, including Shock Charges. This only reduces the effect and doesn't mitigate them completely.
Awareness

Makes enemies at least 4x louder than normal. This allows you to hear their footsteps easier when they get closer to you. Works best with high quality headsets on the Xbox 360 and PlayStation 3.
UAV - 350 Points

Shows enemies on the radar as red dots for 30 seconds. The UAV can be shot down by the enemy.
RC-XD - 450 Points

Allows you to remote control a small car that's packed with explosives. The RC-XD can be detonated at will - enemies can also shoot to destroy it.
Hunter Killer - 525 Points

Deploys a flying drone that seeks out and tries to destroy the nearest enemy player or vehicle.
Care Package - 550 Points

The Care Package is the same as in previous Call of Duty games: it gives you a random scorestreak / killstreak. The Care Package can be hacked by the enemy team.
Counter-UAV - 600 Points

Temporarily disables the enemy radar for 30 seconds - the Counter-UAV drone can be shot down by the enemy.
Guardian - 650 Points

After the Guardian dish is deployed, it projects a microwave field that stuns enemies by slowing them down and also making their vision blurry.
Hellstorm Missile - 700 Points

The Hellstorm Missile works like the Predator Missile from the Modern Warfare series; it allows you to remotely control one missile to the ground. The missile can be scattered into a cluster bomb at will.
Lightning Strike - 750 Points

Equivalent to the Mortar Team killstreak from Call of Duty: Black Ops. You can choose three locations on the map for a coordinated strike.
Sentry Gun - 800 Points

An advanced version of the normal Sentry Gun that's been featured in previous Call of Duty games; once deployed, the Sentry Gun automatically attacks enemies. This version can, however, be remote-controlled at anytime.
Death Machine - 850 Points

Gives you a powerful minigun that can take out enemies with a couple of hits. Unlike in Black Ops, the Death Machine lasts until it runs out of ammo, even after dying - the Scorestreak can be reactivated and the ammo count is where you left off. All killstreak weapons work the same way on the Xbox 360, PlayStation 3, Wii U and PC versions.
War Machine - 900 Points

The War Machine is a semi-automatic grenade launcher with a 6 round magazine. The War Machine works like the Death Machine; it lasts until all the grenades have been used.
Dragonfire - 975 Points

Allows you to remote-control a quadrotor droid that's equipped with a lightweight machine gun. The Dragonfire is lightly armored, so it can be shot down by the enemy with ease.
AGR - 1000 Points

The AGR (autonomous ground robot) is air-dropped into the battlefield and it automatically attacks enemies - it can also be remote-controlled at anytime. The AGR is heavily armored and has a powerful machine gun and a rocket launcher.
Stealth Chopper - 1100 Points

An advanced version of the normal Attack Helicopter from previous Call of Duty games. The Stealth Chopper circles around the map and hunts for enemies, but it doesn't appear on the enemy radar.
Orbital VSAT - 1200 Points

Shows enemies on the radar, but also the direction they are facing - it shows the enemies on the radar in real time. The Orbital VSAT can't be shot down.
Escort Drone - 1250 Points

The Escort Drone follows you around and will attempt to kill any enemies you encounter. This scorestreak reward is equivalent to the AH-6 Overwatch pointstreak from MW3, but it's more advanced.
EMP Systems - 1300 Points

Temporarily disables enemy electronics, e.g. enemy players will have no HUD (head-up display) and can't call in Scorestreak rewards.
Warthog - 1400 Points

Calls in an A-10 Thunderbolt that provides air support by doing several strafe runs on the map.
Lodestar - 1500 Points

Equivalent to the Modern Warfare 3 Reaper Pointstreak; it allows you to launch multiple missiles from the Lodestar to the ground.
VTOL Warship - 1600 Points

Allows you to be the gunner of a powerful VTOL Warship. It works exactly like the Chopper Gunner killstreak from Call of Duty: Black Ops.
K9 Unit - 1700 Points

Spawns multiple attack dogs that hunt down enemy players.
Swarm - 1900 Points

Calls in a swarm of Hunter Killer drones that search and destroy enemies on the map.
Aftermath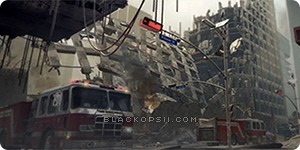 Ruined downtown Los Angeles with close engagements.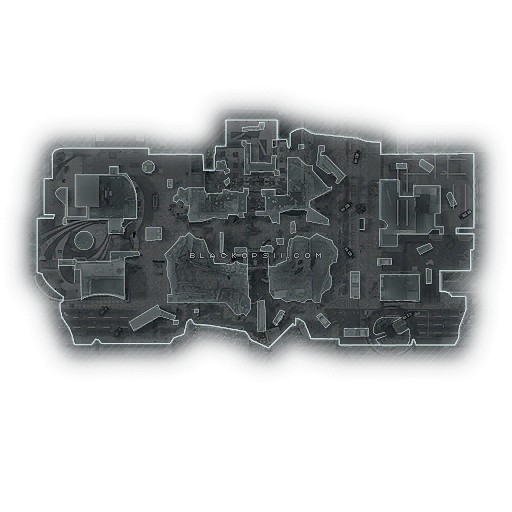 Cargo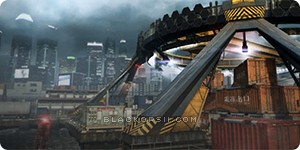 Located in Singapore. Lots of close quarters engagements.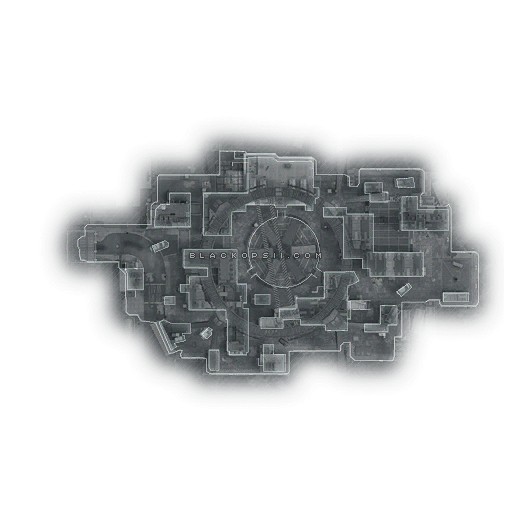 Carrier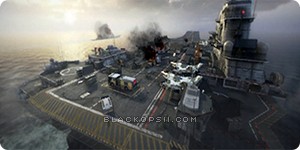 Open engagements on a Chinese Supercarrier. The hull offers great close quarter fights.
Drone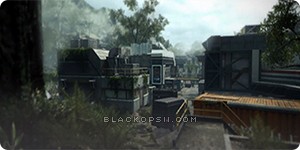 Located in the heart of the Mynamar jungles inside a hidden drone facility. Offers great chances for snipers in the middle and fun close quarter fights through the facility.
Express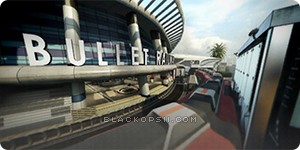 Good long to medium engagements inside the Los Angeles bullet train center.
Hijacked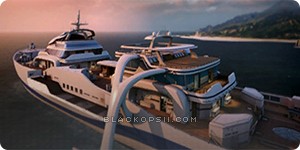 Frantic close quarters engagements on a luxurious super yacht.
Meltdown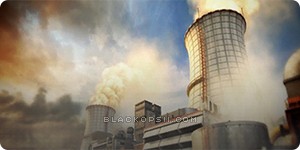 Battle over the cooling tower and surrounding facilities of a Pakistan nuclear power plant.
Overflow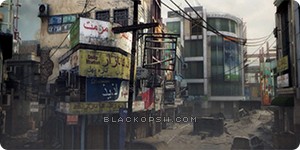 Great urban engagements in the flooded streets of Peshawar, Pakistan.
Plaza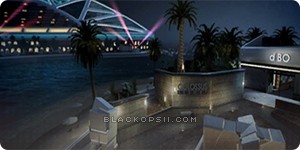 Frantic close quarter engagements with tight corners and angles throughout a floating resort in the middle of the Indian Ocean.
Raid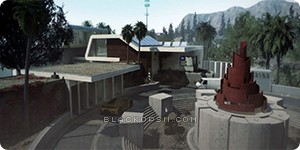 Hectic close quarters engagements through a hillside mansion in Hollywood.
Slums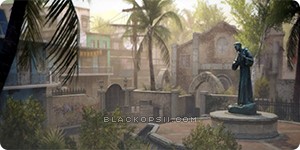 Great close quarters engagements and tough choke points in the run down section of Panama.
Standoff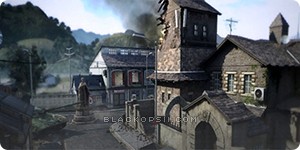 Classic Call of Duty engagements in a border town between China and Kyrgyzstan.
Turbine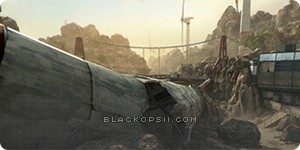 Located in the steep hills of Yemen with wind turbines scattered around the landscape.
Yemen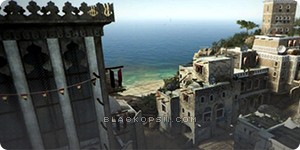 Urban streets of Yemen with tight alleys that result in close quarter engagements.
Nuketown 2025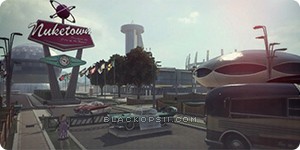 (DLC)
Futuristic remake of the original Nuketown map.
يتبع.....في الردود